Surprises, intrigues, thrills and suspense: the Afcon 2017 continues in grand style.
After two rounds of matches across all group, only two teams have been able to secure spots in the quater final so far. With one more rounds of match remaining, the quest is more daring. Group A and B had already been reviewed so far. see https://muzzammilwrites.com/2017/01/20/afcon-2017-story-so-far/
This segment torch-lights Group C and D
Group C.
Ivory coast championship defense has yet again suffer another blow as the defending champion once again failed to win in their second group match tie against group leader, DRCongo. In a thrilling encounter, Ivory coast had Serey die's 65min goal to rescue them out of a 2-1 defeat to a 2-2 draw. This is further denting their chance to thrive. Right now they sit at the third position with only 2points from two draws so far. DRCongo [4points], Morocco moves to second with [3points] after their 3-1 defeat over Togo [1point] who presently sits at the bottom of the log. The qualification, however, still very wide open with one more round of match for all. Ivory coast plays Morocco and DRCongo faces Togo on Tuesday.
Final fixture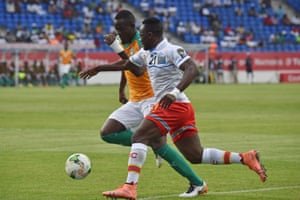 Ivory Coast                            vs         Morocco
Togo                                       vs         DRCongo
Group D.
Elsewhere in Group D, the black stars of Ghana glide pass Mali in their Yesterday. The Ghanaian FA has backed the team to provide a more impressive performance after a generally adjudged average performance in their group opener against Uganda.  The Blackstars (Ghana) [6points] has join Senegal to be the only two teams that have booked the tournament's Quarter final ticket even with a game left. Mali [1point] and Egypt [4point] will have to do more to ascertain their chances. Ghana plays Egypt next while Mali takes on Uganda.
Final fixtures
Ghana                                    vs         Egypt
Mali                                        vs         Uganda
Read also :
Goal scorers so far.
Riyad Mahrez                                     Algeria            2goals
Emmerick Pierre Aubameyang           Gabon             2goals
Sadio Mane                                         Senegal            2goals